Top Sellers
$23.99 - $32.99
$8.49 - $13.49
$14.99
$14.99 - $19.99
$9.99
$5.49 - $9.49
$6.49 - $10.49
$7.49 - $12.49
Description
Product Reviews
Rated Top Product of the Year by numerous magazines and called the "world's best dog ball" by industry experts - this doggie-durable, buoyant, bouncy and minty toy is irresistible to dogs. Planet Dog Orbee-Tuff Orbee Balls are made for dogs of all sizes, and they are sure to fall in love.
These Planet Dog Orbee-Tuff Orbee balls feature Treat Spot, so they can be stuffed with any types of treats of food to give your dog an even more interactive experience. Planet Dog Orbee Balls are available in 3 colors and 3 sizes. Blue|Green, Pink|Blue, and Glow|Orange. Glow you say? Yes, the Glow|Orange Orbee Balls glow in the dark! Planet Dog Orbee Balls are made in the U.S.A.
Like all of Planet Dog's Orbee-Tuff toys, they are ultra-durable, buoyant, super-bouncy, mint scented, recyclable, non-toxic and 100% guaranteed. 100%
Guaranteed you say?? Yes, if your pup can completely destroy or demolish any Planet Dog toy, Planet dog guarantees their products and will offer a one-time replacement!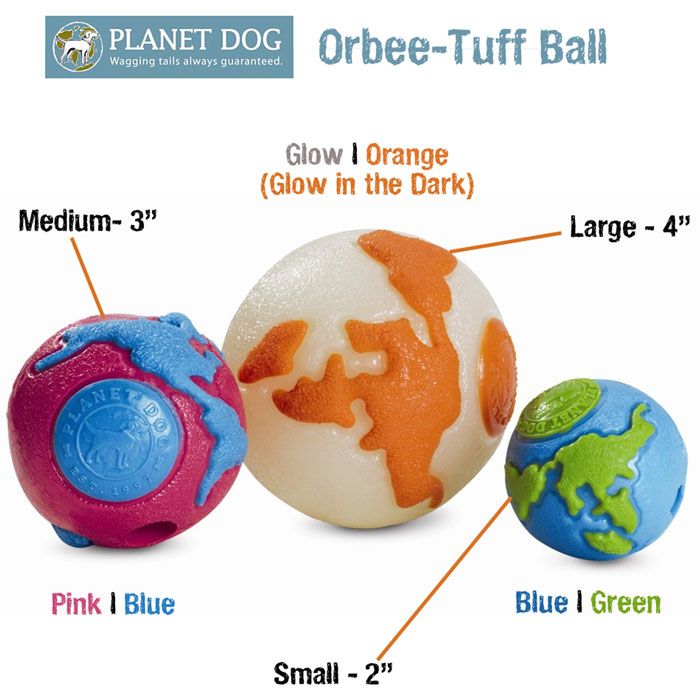 Planet Dog Orbee-Tuff Orbee Ball Features
Bouncy – super bouncy and erratic when thrown.

Buoyant – Floats for excellent water play

Treat Stuffer to keep dogs attention and becomes an interactive toy

Recycled, Non Toxic, and Made in the USA

Minty Flavor and Scent

100% Guaranteed

Rated 5 out of 5 Chompers on the Planet Dog 'Chew-o-Meter' (See Chew-o-Meter Chart in photos or below)
Planet Dog Orbee-Tuff Orbee Ball Product Specs